I thought very little about my goals for this race, and it was intentional. I didn't want to set the bar too high, but I wanted it way above "just finishing" the race. I already knew that there was no option to not finish. What was my high bar? I settled in to a goal of pacing under 10 minute miles. It could be 9:45 pace or 9:59. Whatever, as long as it was under 10:00. I felt it was a reasonable goal. A very attainable goal, and that was my main focus.
My training was good, but sporadic at times. It certainly wasn't perfect. I missed lots of runs on the training schedule. I hadn't done any speed work near the end. I didn't want to set myself up for failure by shooting too high. However, I knew that anything deemed a failure was not an option today. I put in too many hours to end this day with anything that I determined to be "not good enough".
As the crowd of runners surged forward, I developed my game plan in my head. There were pacers at 2:00 and 2:15 finishing times. A 10 minute per mile pace puts me finishing in 2:11:06. As long as I finish ahead of the 2:15, I would be good then. Shane had previously suggested I stay with them at the beginning and then move ahead if I was feeling good. I thought about that for about two seconds. At 2:15, I would be four minutes over my goal. Nah, I'm going to stay ahead of them and work my own pace. I will not force myself to go slower than I want to go today. I don't care if I end up with negative splits or not. I'm not starting slower than the pace I want to beat. No way.
We move ahead, and I don't see Shane anymore after the starting gun. We're running through the streets of downtown Springfield, between the buildings, with traffic shut down. Again, the surreal nature of the morning really hits me. I feel on top of the freaking world!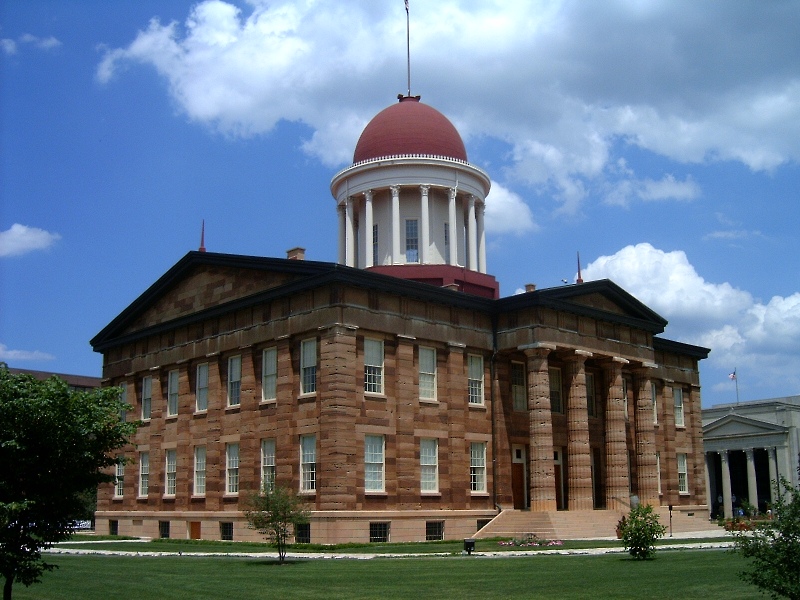 We pass a Lincoln site: the
Old State Capitol.
Then the Lincoln-Herndon Law Offices. Down the street and around the corner, we run by
Lincoln's Home
on South Seventh Street. The noise of hundreds of feet on the gravel street sounded like a hard spring rainfall.
Mile one done: 9:37 pace.
I keep moving and consider my music for a second. No, I'll just wait. I'm soaking in the atmosphere and the people around me. I'm eavesdropping on conversations between running partners. I'm just enjoying myself tremendously, and I don't want to shut off the outside world with music.
The conversation over here is between a man and a woman, possibly a couple. He seems to want to go faster than she is willing to go. He pulls ahead, and turns around to look for her, urging her with his eyes to go faster. Finally he falls back in line with her and they start having a conversation about whether or not she would be mad if he runs ahead today. It seems that they should have had this conversation before that moment in time--maybe yesterday? Shane and I never had any illusions that we would run this race together, and I'm glad. I'm really enjoying my solitude among the crowd. I didn't have to worry about anyone else's comfort level or pace.
Mile two done: 9:30 pace.
This girl over here is telling her running partners they
BETTER
tell her if someone sees a camera. The guys over in this group laugh at her, but then agree among themselves that most of their running candids made them look like they are having some type of seizure while running. Ah, yes, I know of bad running photos. Hopefully today will be better than the pictures from the Frostbite Festival. Couldn't be much worse.
As we leave downtown Springfield, I remain in my "zone". Soaking in the atmosphere. I see all these people with signs supporting their friends and family members running, and I am suddenly overwhelmed with wanting to see Jocelyn on the side of the road! I also think about my parents. I know my mom is working this morning, but I imagine my dad being on the side of the road somewhere in Washington Park and it makes me smile. I know he won't be there because I didn't ask him to be, but the thought of my family supporting me kind of overwhelms me. I push forward. I still feel like I have to pee, darn it! It happens to me every race!
Mile three done: 9:23 pace.
As we enter Washington Park, the crowds surrounding the race route get thicker. I see people I know here and there. I scan the crowds, feeling energized by the cheers, even though they are not for me, but for people around me. A little girl holding up signs that says, "Great job, Mommy!" nearly makes me cry imagining Jocelyn holding a sign for me one day. We turn a corner and head away from the park into Leland Grove.
Mile four done: 9:27 pace.
Finally, I'm feeling warm enough that it's time to lose the fleece. While running, I unpin my number from my fleece and pin it to the shirt beneath. I only stab myself a couple times. I tie the fleece around my waist and barely miss a stride. A pick another runner and make sure I keep with him during the switch. I don't want to slow my pace just because I'm not paying attention to my surroundings. After a loop out into the neighborhood, we head back toward the park.
Mile five done: 9:25 pace. At least I'm consistent, right?
I'm paying attention to my pace and it's fluctuating between 9:00 and 9:35. I'm feeling great after five miles, but we're still miles from the hills that are ahead. I decide that I'm going to try to keep the pace around 9:15. As we pass the timing clock at mile number five, I hear someone behind me say to their running partner that if they keep up this pace, they should be able to finish under two hours. For a second, I think to myself, "Are they calculating that right?" I do some rough math, and a two hour finish would be around a 9:10 pace. It's not outrageous to think they could do it. Is it outrageous to think that
I
could do it? The thought is fleeting and drifts from my mind as we enter Washington Park again.
We head down the hill and around the lagoons. I think about how I'm glad that we are not heading the other direction. The slight feeling that I need to pee is lingering. The girls running next to me mention finding bathrooms as if they are reading my mind. As we approach the park exit, there are two porta-potties to the left. The two girls run forward and each take one. I'm certainly not going to stop and wait. Anyways, the feeling is still slight. I'm sure there will be more chances to stop along the way if I really need it. I will continue to gauge how I feel as the day goes on.
Mile six done: 9:17 pace.
We head down the longest straight-away in the race: Lincoln Avenue. Written all the way across the road in huge letters with sidewalk chalk are the words "GO MOMMY!" I smile. We head back through town to the north. Traffic is stopped at every major intersection by police officers. At one intersection, I hear an irate driver loudly asking the officer if they got a permit for the race. No moron, there are a thousand people running through the streets of Springfield, police have intersections closed temporarily, and no one thought to remember to get a permit for it. Sorry to get your panties in a bunch early on a Saturday morning. But I digress--the officer didn't deserve the grief. Thank you, Officer!!
Mile seven done: 9:31 pace. I don't know what happened there...slowed down a bit.
I realize that the race half over. I check myself mentally and physically, and I'm still feeling great. There's a little cramping in my toes on my right foot, but nothing too dramatic. I consider my music again and decide that it's time. I look up ahead and there is a decent hill to finish up Lincoln Avenue, so I fire up the iPod. Ah, sweet, motivational beats! I feel energy surging through me! I hit a water stop and try to grab some Gatorade, but they are only calling out "water". I read somewhere that you should do one or the other, not both. You don't want to water down the Gatorade. Oh well, I need hydration. I grab a water and put a bunch up my nose, and the rest down my throat. I still hate that they don't have trash bins set up. I would use one instead of throwing the cup on the ground. It just doesn't feel right!
We pass porta-potties again, I don't think I have to pee anymore. I'm feeling good and don't want to lose the time. We turn onto Calhoun Avenue and run by the house that Shane and I used to live at with Meredith. I barely recognize it. That was a long time ago, another lifetime.
Mile eight done: 9:11 pace. Now that's better! Ah, the music....
We run through some neighborhoods, winding through the north end of town, crossing North Grand. I don't remember much of this mile. At this point, I've got the music jamming, and I remember passing runners here and there. My pace is feeling great, and the music has rejunvenated me.
Mile nine done: 9:08 pace. Oh, yeah!
We are getting closer to Oak Ridge Cemetery, and the first of the really dreaded hills. I'm cruising along and at one point on Monument Avenue, we are running the opposite direction on the other side of the street of runners who are ahead of us. I'm scanning the faces for people I recognize, but I'm really just looking for Shane. I would love to see him! As I approach the entrance gates to Oak Ridge, I see a crowd of runners surrounding a pacer. It's Shane's pacer! Right before the routes split from each other, I see Shane for a moment, and yell his name. Darn it! He didn't hear me. Here I go....heading into Oak Ridge!
We're coming up on the next Lincoln site, the tomb. We head down a hill, turn a corner and start heading back up. I put my head down, looking right in front of me and start my "kill the hill" mantra in my head and under my breath. It really helps! This hill is NOTHING! There are quite a few people walking up the hill. I begin to pass several people. At the top of the hill, I'm breathing a little heavy, but still feeling absolutely great. I settle into a slower pace for a moment to recover, but then I'm ready to go again.
Mile ten done: 9:16 pace. Not bad considering we tackled the first hill in that mile.
We round the corner on Third Street, and I know what's coming next. There's a big downhill run coming into Black Avenue, and then arguably the worst hill in the course. I'm ready for it! We head down, and I start thinking "kill the hill!" I begin passing people. People start walking. I'm pushing through it, keeping my breathing even and taking comfortable strides. In no time at all, I'm back at top, looking at the entrance to Lincoln Park. I turn in, steady my breathing, but I'm trying to recover without slowing much at all.
Mile 11 done: 9:02, even with the Black Avenue hill. What about that?! Woo-hoo!
There's just a bit over two miles left. A short run, right?! An easy run! I can't even believe it. I start planning my finishing strategy. Do I pick it up now? Do I wait a bit? Do I have enough in my tank to finish fast for the next two miles? As I'm thinking about this, a runner blows by me. I take notice because no one has passed me like that since the beginning of the race. Then I realize that it's someone I know. His name is John. I decide that I'm going to pick it up a bit. I'll slowly catch up and hang out behind him. I will race him in my mind to keep me moving. He's got a good lead on me right now.
I approach the last big hill leaving Lincoln Park. Kill the hill! My mantra is working. I pass several people walking up this final hill. I know once we leave the park that there will be no more hills heading back downtown. I keep John in my sights, and I'm now about 20 feet behind him heading up Third Street.
Mile 12 done: 8:44 pace. I'm moving now!
Wow, is there really only 1.1 miles left? Am I really about to finish my first half marathon, and I'm still feeling awesome?! At some point during the mile, I look at my watch and see that my overall time is 1:56. I realize that it
is
possible that I could finish under two hours! My brain is not able to do the math at the moment, so I decide that I'm just going to put everything out there and just see what happens. I'm elated with my time considering my original goal was finishing under 2:11.
I cruise behind John and decide that I'm not going to let anyone else pass me. I'm picking off runners one by one. We turn left on to Dodge Street, and I move ahead of John. How much is left? Is my GPS mileage right on? Can I maintain this pace and beat him? Did I pass him too soon?
We take another corner, and in my peripheral, I see him gaining on me. He passes me briefly, but I kick it up another notch. I start to see people who have already finished with medals on walking back to find friends who are still racing. I'm so close to done!
Mile 13 done: 8:01 pace. I like that pace.
Where is the finish line? It's so close, but I can't see it! I hear crowds of people. We've hit 13 miles, so there can only be a little left. I see crowds at the end of this street, but I don't see the finish line. I keep up my pace, not allowing anyone to get near me. I'm going to finish strong, but I'm not ready to sprint yet. I turn the final corner and there it is! The finish line just ahead!
The crowds are lining the roadside. The noise and energy is amazing! I pull on all that energy to start a flat out sprint to the finish. No one is going to pass me again! I cross the finish line!
I'm done! I stop my watch and look at my overall time of 2:01. I'm thrilled! I didn't break two hours, but who cares?! I blew away my goal that I set by a full 10 minutes. My final 10th of a mile was ran at a 7:18 pace. I kicked butt! <BIG SMILE>
Official marathon time: 2:01:00.
I would like to thank John for racing me at the end, even though he may not have been racing me at all. It was probably in my head only. If he wasn't there, I don't know if I would have kicked it in the last couple of miles. Maybe I would have picked someone else to race. Maybe not. Regardless, that's not how it turned out, and I'm very happy with my finish.
I floated around on Cloud 9 and searched for Shane in the crowd. Found him! We're both smiling from ear to ear. He finished under his goal too, 1:58:03. We were both glowing in post-race energy! Shortly thereafter, we headed to the Alamo for our free celebratory beers. Well earned. What an amazing day! It will be a day that I will not soon forget. You better bet that next year, I will be finishing this race under two hours. Mark my words!