Yes, that says 5 MILES, not 5K. It's not a hugely popular race distance; more than a 5K, but not quite a 10K. I've never raced this distance before, so I was struggling to set a goal pace. I ran the two mile race in August at 7:51 pace. I ran a 10K (with hills), the following week at 8:36 pace. I've done some speed work and tempo runs around 8:15, which was my last pace at a 5K race back in May. Hmmmm, what is a reasonable pace without setting the bar too low?
I decide on 8:10, even though I want to go faster. I want to run the 5K the following week at 7:40. I don't know what I'm doing! I'll just go out there and figure it out as I go. I know it's not good to not have a plan.
The morning of the race, we show up at the park where the finish line is. This is the first point-to-point race I've registered for. It starts at the other end of a bike trail that runs between Springfield and Rochester. We load ourselves on school buses that are shuttling people to the starting line. The bus is rather quiet as we head down the road.
The war- up run.
As we arrive at the starting line, I see that there are hundreds of people already there. Some running, some milling about trying to stay warm. It's cool out, but not cold. Perfect conditions for a run. Sunny and in the fifties. It might still be in the upper 40's right now though.
We get off the bus and take a lap around the parking lot and around the building. During the run, we see Dave Anderson who has volunteered to take race pictures. We chat for a bit, but the race is going to begin in just a few minutes. He takes one more pre-race photo of us, and we head back to the starting line.
Before the race. What a beautiful morning!
It's such a beautiful day for a run! The fall colors have peaked, but leaves are still on the trees and still looking like a glorious fall morning. We get into the starting line crowd and move toward the front of the pack. I don't want to be too far up front, but enough that I don't have to run around too many people before we get to the bike path. The race goes about a half mile through a parking lot before we hit the actual bike trail. I am imagining a bottleneck happening if we don't get properly spaced out before we get there.
After a few announcements and thank yous, ready, set, go, and we are off! Hello, starting line adreneline! I am trying hard to force myself to lag behind Shane, but staying with him feels so natural. I look at the GPS and it's telling me that I'm pacing around 7:30. That is Shane's goal pace, not mine. I slow down. I get passed. I don't like it, but I deal with it.
Cheesy smile for the camera!
<--Photo by Dave, Perfect Concept Photography, taken at the beginning of the trail. Boy, am I cheesing! I keep forgetting my own very clear rule about ignoring the camera and trying to act candid and natural.
By the time we enter the trail, we are spaced fairly well. For the next half mile or so, I keep getting passed. It's irritating. I look at my GPS to check my pace. I'm not going too slow, am I? No, I'm staying between 8:00 and 8:15, but I'm still bouncing around a lot trying to settle into a pace while people are still passing and being passed. My GPS rings out.
Mile 1: 8:05 pace. Faster than goal pace but I know it's because I ran the first quarter mile around 7:30.
Two guys running together pass me right as we turn onto the straight-away of the trail. They are big guys, and they don't look like runners (sorry, I'm stereotyping--but I know I'm right!). I decide to speed up a bit and hang out behind them. There's no way they are going to keep up this pace! And if they do, I want to see it to prove myself wrong. Another guy passes me and gets between me and the big guys. This guy looks more like a runner though. After another half mile or so, the runner-looking guy decides to pass. I check my GPS, and at least for now, it's saying 8:40ish. No way! Too slow! I follow the guy around the two other guys, and check my GPS again. Once it settles down from passing gear pace, I see that I'm still hovering way too slow, even following the runner-looking guy. I decide to kick it in and pass him as well.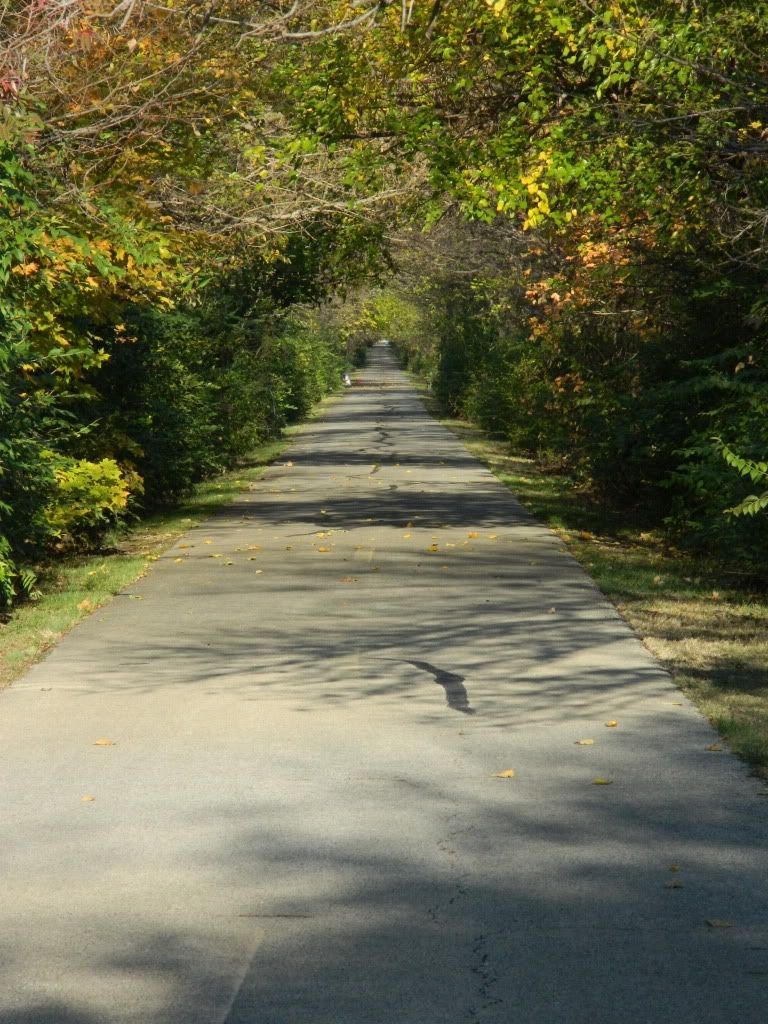 The long, straight race trail on a beautiful day!
With that done, I don't have too many people too close in front of me. I settle into my happy pace, and cruise for a while. Watch rings out that mile two is done.
Mile 2: 8:13 pace. Oops. That's a little slow. A least the faster first mile will average it all out better than goal pace.
During this next mile, I get passed by three distinct people that I can remember. One is a guy that I've seen at races before. He's going a faster than I am, so I try to latch on to him. I stay behind him a while with a slowly growing gap. I check my GPS from time to time, and I'm consistently hovering below 8:00 pace. I don't care that it's faster than my goal. It feels good!
The second memorable person who passes me is the only female to pass me after the initial start of the race. Where has she been hiding out?! She's cruising at a fairly good pace, and after speeding up a bit, I realize that if I try to keep up with her that I will most definitely hit a wall. I don't even attempt it, and her bright yellow shirt gets farther away as she races off down the trail. Now I'm just hoping she's not in my age group.
The third person I remember mostly because we would pass and a re-pass each other a few times before the race is over. I didn't count how many times in all, but a distinctly remember a few of them. The watch chimes, and mile three is done!
Mile 3: 7:58 pace. See what happens when you latch on to someone faster?
As we continue down the trail, I am still following the third runner who passed me--I shall call him "pacer-guy", but I'm close behind. Either he's slowing down or I'm speeding up. I'm starting to feel the effects of the pace. I feel a little heavy in my legs. I find myself watching my GPS a lot in this mile to make sure I don't slip down into slower territory. I have to correct my pace again and again. I flip through a few songs on my iPod hoping for some motivation. A song by Muse allows me to rejuvenate a little. I pass pacer-guy.
Mile 4: 8:13 pace for the second time this race.
Pacer-guy lurking behind me, about to pass me!
As I start mile five, I know it's the last mile left. I know that there's only about eight minutes left to go. We near the turn on the trail and the last water stop (where the picture to the right is taken). I am still passing some people now and then. I know I have to finish strong here. As we go into the big turn to leave the bike trail and head into the park, I get passed by pacer-guy again. He literally blows by me on the turn. It irks me, so I hang out behind him making sure I stay close. He's got some kind of renewed energy or something! I struggle to stay close, and I think that I might be feeling something close to the runner's wall that I've heard about. I've never really pushed myself long or hard enough to hit any kind of wall. My legs want me to quit, but obviously it's not an option. Pacer-guy is getting further away.
I keep hoping that the route cuts through the parking lot in the middle of the park, but I know better. I am pushing hard to maintain my pace. Right before the final stretch (about a quarter mile straight-away), I pass a clump of about five runners. Once I see the blue finish line carpets in the distance, I start my "empty the tank" pace.
Pacer-guy finishing right before me.
I feel my stride lengthen, and I pass a few more runners. I am slowly closing ground on pacer-guy! I pass one last person, and I'm right behind him. We're just yards from the finish line now. I slowly creep up on him to his left. He sees me in his peripheral view and kicks it up another notch and pulls away. I never catch him again, but I cross the finish line with a very respectable overall time.
Yay! I'm done!
Mile 5: 7:41 pace. I'm pretty proud I could do that pace after running four miles already.
I'm pretty happy with my results today. I picked a good pace for myself and exceeded it. I find myself doing that a lot. Maybe next race, I pick a pace, and then up it by 10 seconds per mile. That seems to be what I do most times anyways. I still fear failure too much and always set my paces too cautiously. Maybe I am afraid of setting my bar so high that I won't reach it. I need to stop that. I need to reach higher. Who cares if I don't quite reach it, I'll get it the next time, right? Right!
Overall results: 40:19, 14th female, 3rd in my division, 45th overall out of 337 finishers.